By: Veronica Manning, Humanities Scholar & Social Change Facilitator
"Black History Month is a necessity; it counteracts the 11 months in the year that our history/legacy is diminished, tainted, manipulated and/or erased altogether."
— Nadia Stanley, television producer and author
Every year when February rolls around, it's inevitable that someone will wonder if Black History Month (or African American History Month, as others refer to it) is even still important. The above quote accurately reflects my stance, which is a firm "yes".
Black history is American history.
This past January, we all watched as armed domestic terrorists stormed the United States Capitol, hunted for legislators to kidnap or kill, violently attacked police and destroyed (or stole from) various properties. Their purpose was clear, to invalidate the votes of the American people, who had voted to elect Joseph R. Biden as the next president by a difference of over seven million. It was a failed coupe.
What does that have to do with Black History Month? A lot. It may not be widely known, but something eerily similar has happened before…except that time, it worked.
In the late 1800s, Wilmington, NC was a robust, majority-Black town. Black people were voting, owning homes and businesses, starting banks, serving as police officers, postal workers and aldermen – all alongside and in peaceful concert with the white residents of the town.
There were Black men who were skilled workers, and they even started the nation's first Black newspaper, The Wilmington Daily Record. Black people were thriving and growing their social, economic, and political standing in the community. Much like other times in US history, the city's success upset white supremacists and their response was to carefully plan and execute irrevocable harm against the Wilmington Black community and city government. On November 10, 1898, a group of white supremacists violently overthrew the city government of Wilmington, NC. Dubbed "The Wilmington Massacre of 1898", over 2,000 white men stormed and burned Black businesses, killed over 300 people and forced the Black and white government officials to resign under threat of death.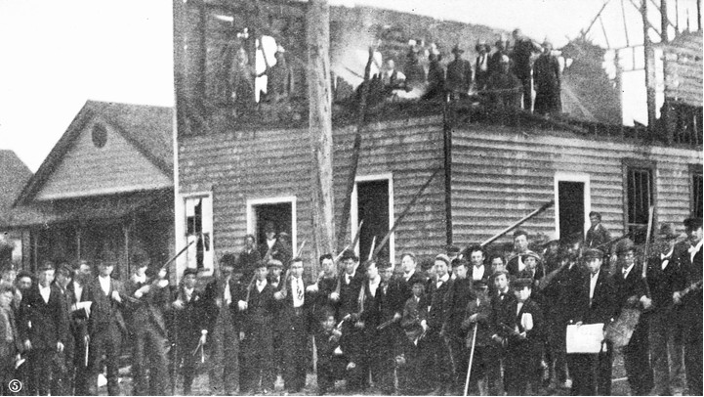 Why?
Very few things anger white supremacy more than Black political power.
For each step forward, there are further steps backward. With the Fourteenth Amendment came Jim Crow Laws. As the confederacy ended, the legacy of hate lived on. Most of the activities of the Klu Klux Klan were focused around preventing Black people from voting. The Klan threatened, terrorized, and lynched Black people for merely registering to vote, or as a deterrent to prevent others from doing so. It didn't matter that the Constitution now expressly forbade this.
Even after the Voting Rights Act of 1965, guaranteeing the rights of Black people to the vote, was passed, it was scarcely enforced and often times ignored altogether. In Southern states with a high Black population, fear that the balance of power would be interrupted if Black people were allowed to vote, outweighed any consideration of the law said.
As recently as 2013, the US Supreme Court stripped away protections included in the Voting Rights Act, leaving it arguably hollow and almost meaningless. When conservatives claim election fraud and thousands of "illegal votes" being counted, its targeted in areas with a high population of Black voters – with almost "surgical precision." This parallel to the previously used tactics to force Black voters to overcome as many barriers as possible cannot be ignored.
The United States still has a long way to go to fully reckon with and bear real responsibility for its history of systemic racism and violence. Black History Month is just one opportunity to reflect and move forward, as there is still so much work to be done. It's so important to know our shared history and to hold the truth up to the light.
Throughout the next few months, True Mentors will be holding a series of discussions on race with students of all ages to give them the opportunity to make their voices heard and ask questions. As a volunteer or a mentor, there may be times when students have questions about Black History Month or about any aspect of American history. That is a great opportunity for shared connection and transformative conversation.
It is my hope that you will let Black History Month remind you to engage with Black history for the other 11 months of the year, to consider Black perspectives, sources, and knowledge every day, because Black history is American history.
Here are some additional book recommendations to get you started:
The Fire Next Time by James Baldwin
The New Jim Crow: Mass Incarceration in the Age of Colorblindness by Michelle Alexander
The Color of Money: Black Banks and the Racial Wealth Gap by Mehrsa Baradaran 
Mediocre: The Dangerous Legacy of White Male America by Ijeoma Oluo